The Images of Miss Saigon: a History
Miss Saigon has been wowing audiences since 1989 and is set to wow audiences at Signature in just a few weeks. But the show's genealogy goes much further back than just 1989. Here's an abbreviated history of where this wildly successful musical comes from.



In 1887, John Luther Long published a short story called "Madame Butterfly." It was the tragic love story of a US naval officer and a Japanese geisha. Above is an illustration from that short story.
Davis Belasco made the short story into a one-act (1900) which Puccini saw. This inspired him to write his opera Madame Butterfly which was first performed in 1907. The picture above is Geraldine Farrar in the title role. Below is the poster from the original production.
At the end of WWII, Vietnam was no longer occupied by Japan who had taken over the French colony when France was invaded by Germany. However, many did not want to fall back under French rule, so the communist movement led by Ho Chi Minh (above) declared Vietnam to be an independent country and went to war with France.
North Vietnam was recognized as a country after defeating the French. In 1955, America decided to give military aid to South Vietnam in order to prevent communism from spreading from the North to the South. The conflict would last for two decades. The above photo is from the US Army.
In 1975, the North Vietnamese Army succeeded in marching through South Vietnam to the capitol: Saigon. The city was taken as the last US soldiers fled in helicopters. The above photo of a helicopter is an iconic image of the fall of Saigon and of the musical Miss Saigon as well.
Schönberg saw the above photo of a mother leaving her half-Vietnamese, half-American son at an airport terminal where he would go to live with his father in American.
Schönberg

was reportedly inspired by this image, which he considered to be the ultimate sacrifice, to write a musical.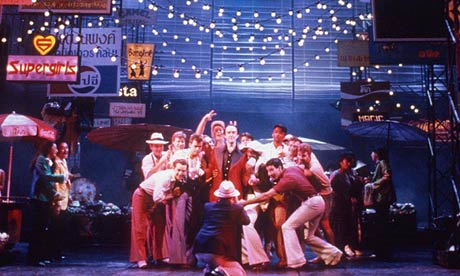 The musical, a retelling of the Madame Butterfly story in the Vietnam War, premiered in 1989 in London. The above photo is of the original London production.
And in 2013, Signature Theatre opens their 2013/2014 season with an environmental production of Miss Saigon where the entire theatre will be transformed into 1970s Vietnam. Get your tickets here!
Interested in learning more about Signature's production of Miss Saigon? Be sure to sign up for an exclusive backstage tour of the production. Tickets are only $10.